What is an Android launcher?
Android's dominance over other mobile operating systems is mainly due to the endless customization opportunities it provides to its user base. Launchers are one of the most customizable parts of Android. Android smartphones are inoperable without a launcher, which comprises of your home screen and the catalog of all the apps available in your device. So every device comes with a default launcher pre-installed.
Why use third-party launchers?
There are many third-party launchers available that replace your default launcher. But, why should you replace your stock launcher? This question has a pretty simple answer–the third-party launchers offer a lot of customization for users to suit their needs.Android launchers have become smarter and feature rich over the years. To save you from the trouble of browsing through a hundred of launchers on Play Store, here, we have compiled a list of Best Android Launchers.
5 Best Android Launchers
Apex launcher is a visually stunning launcher with thousands of themes and icon packs that you can download from Play Store. It is a lightweight launcher optimized for both smartphones and Tablets. You can add up to 9 customizable home screens and hide apps in your app drawer that you don't need. Apps are sorted in the app drawer according to the title, installation date or how frequently you use them. Purchasing the pro version will unlock more gesture options, powerful app drawer customizations, and many additional features.

Smart Launcher 3 is another lightweight and fast Android launcher that claims to use AI for searching apps, contacts, and web content. The app drawer consists of a sidebar that divides the apps according to a category. While the initial setup process, it asks you for the default apps that you use, so you won't be annoyed later by default app pop-ups.
Smart Launcher 3 has a "smart turn off" feature that automatically turns off the screen when the phone is laid down. Although gesture support is present, it is limited and more gestures unlock when you purchase the pro version. One downside is that ads show up on the app drawer in the free version which is undesired.
Nova Launcher is one of the best Android launchers. It is a buttery smooth launcher which I have been using for over three years now. It is fast, efficient and lightweight. Icon packs are available in the Play Store to change the look and feel. It supports dock customizations, notification badges, an option to show frequently used apps as a top row in the app drawer, folder and icon customizations, a dozen of gestures and many others. It also has support for app shortcuts found in Android Nougat.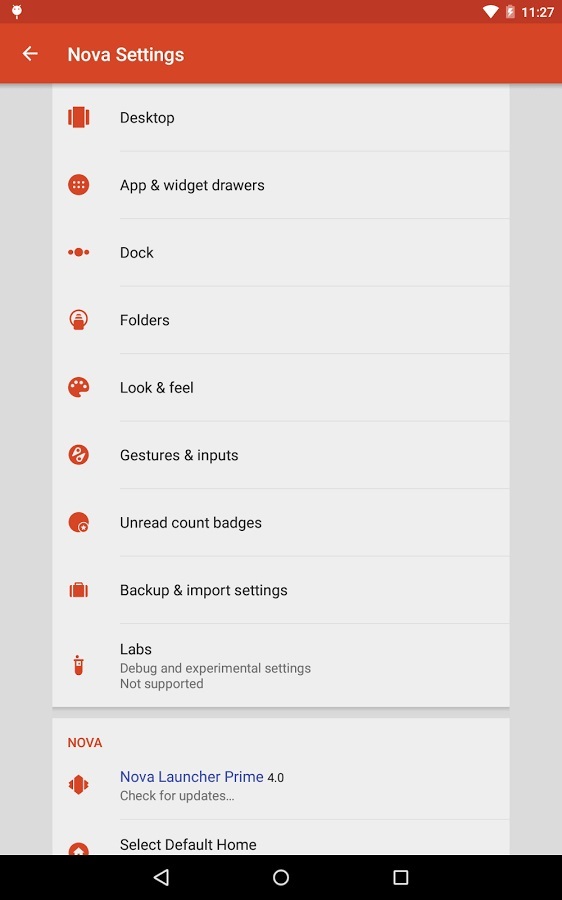 This launcher is stable, fast, easy to use and offer hundreds of customizable options. The UI almost feels like stock Android. A unique feature it supports is a dynamically colored interface that changes according to your wallpaper. Moreover, there are icon badges, app indexing on app drawer, launcher shortcuts, transition animations and tons of other useful features.
Its developers claim that the possibility that you will configure it to your likeness is approximately 3720 to 1. You can make and modify your own widgets with your own colors.
What more can you ask for?
EverythingMe neatly organizes your phone and can recommend the best apps for you. Home-screen folders are created category wise during initial setup. It has customizable gestures and a prediction bar for fast app searching.
A swipe on your home-screen will take you to "Quick Contacts" where you will find your frequently used contacts. "WeWatch" is another screen where you will find news feeds but it is not much customizable. The launcher gradually learns from your habits and delivers the best it can.